Ion implanter for semiconductors
The interface between people and their way of life: LSI (semiconductors)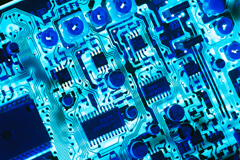 As a specialized Japanese supplier of ion implanter in the field of semiconductor manufacturing, Nissin Ion Equipment offers various ion implanters for mass production and research with a focus on medium current machines.
Diverse applications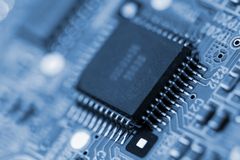 As equipment that is indispensable in the manufacture of a variety of semiconductor products like computer CPUs, DRAM, flash memory, and system LSI, as well as the microcomputers and inverters that are built into electric appliances, in-vehicle semiconductors, and image sensors for digital cameras, Nissin Ion Equipment's ion implanter for semiconductor is used all over the world.
Device miniaturization
With the further miniaturization of semiconductor devices in recent years, greater precision and higher productivity in ultra-shallow junction formation are in huge demand. To address this, Nissin Ion Equipment has released CLARIS®, the world's first ion implanter to utilize cluster ions of ionized cluster molecules such as B10H14 (decaborane) and B18H22 (octadecaborane) and thus enables high productivity and high quality ion implantation even under the extremely low energy of 500 eV or less that is required in order to achieve ultra-shallow junction formation.
High temperature implantation
Nissin Ion Equipment has addressed the needs brought about by the rise of environmental awareness into our equipment development and marketing with IMPHEAT®, a high temperature ion implanter for mass production. This product is for the manufacture of semiconductor power units that are attracting attention in their application with electric power equipment due to their ability to more efficiently handle high voltages and high currents in comparison with conventional semiconductor devices. Such semiconductor power devices are also being used in EV and HEV vehicles and home appliances for the purpose of saving energy.
Product lineup