Ion implanter for FPD manufacturing
The interface between people and information: FPD (Flat Panel Displays)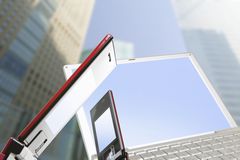 In the field of flat panel display (FPD) manufacturing equipment, Nissin Ion Equipment led the world in 1988 with its development of an ion implanter (ION DOPING®) for manufacturing low-temperature poly-silicon thin film transistors (LTPS-TFT) displays that delivered high resolution, high definition, and high efficiency. This unit was a cutting-edge manufacturing equipment model for TFT, i.e., drive circuits. Since then, a number of these units has been delivered and we have built a firm and overwhelming position in the world market for such devices.
Indispensable to small/medium high-definition displays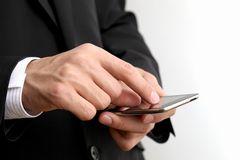 Nissin Ion Equipment's ion implanter for FPD manufacturing is essential to the manufacture of the liquid crystal displays (LCD) and Organic light-emitting diode (OLED) that are primarily used in small/medium high-definition applications such as smart phones and high-end cellular phones, and in high-resolution, high-definition applications such as digital still cameras (DSC), video cameras, media players, and portable game units. LTPS-TFT is currently recognized as the most significant display technology, and Nissin contributes to this as a pioneer of ion implanter equipment for the manufacture of LTPS-TFT as well as being a leading supplier.
Increasing productivity
Although glass substrates below G4.5 size (730 × 920 mm) have generally been adopted in the manufacture of small/medium displays, construction of higher capacity mass-production lines have come to be required due to the rapid increase in the global demand for smart phones. In that regard, each panel manufacturer has begun in earnest to introduce processing units that can handle glass substrates larger than G5.5 size (1,300 × 1,500 mm). As a leading company of ion implanter for FPD manufacturing, Nissin is manufacturing and marketing the "iG5", the world's first ion implanter for G5.5 size. We have also developed the "iG6", which is compatible with G6 size (1,500 × 1,800 mm), and are currently advancing its delivery to panel manufacturers both inside and outside of Japan.
Product lineup
Nissin offers the finest equipment for manufacturing LTPS-TFT displays
iG6
 Compatible glass substrate sizes : 1,500mm×1,800mm
iG5
 Compatible glass substrate sizes : 1,300mm×1,500mm
iG4
 Compatible glass substrate sizes : 730mm×920mm
Features of LTPS-TFT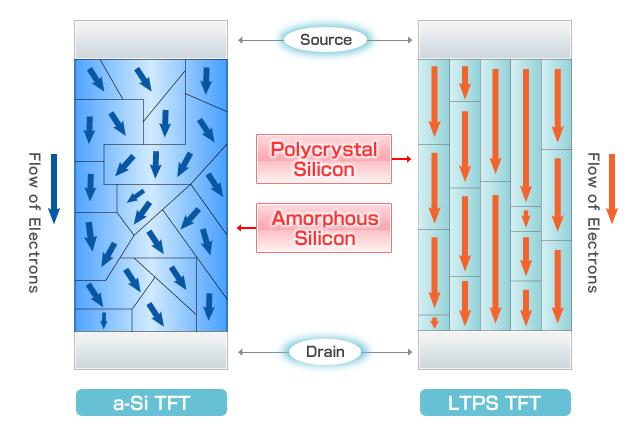 Among the materials used in TFT for liquid crystal displays, etc., LTPS is a poly-silicon formed under a low-temperature environment of generally less than 600°C. Compared with amorphous silicon (a-Si) that has long been the mainstream for use with liquid crystals, LTPS offers the following advantages.
Advantage :
High electron mobility (max.: hundreds of cm2/Vs; 0.5 cm2/Vs with a-Si)
Small, high-speed switching TFTs
Integrates driver ICs onto glass substrates to enable slime border and high-definition
Low power consumption through high aperture ratio and high resolution
LTPS-TFT is thought to be optimal for [1] small/medium displays where high definition is required such as smart phones and tablet PCs, and [2] OLED where high-speed TFT switching is required.