President's Message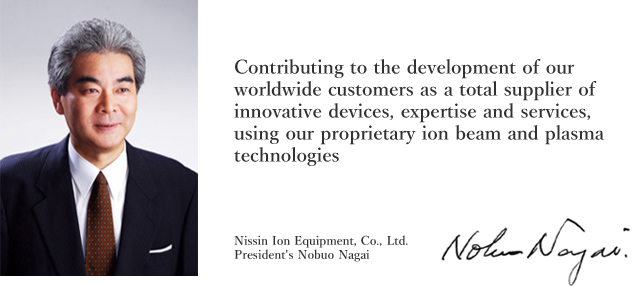 As the largest manufacturer in the world, Nissin focuses on employing ion implantation equipment technology for semiconductor and display devices in order to provide various solutions through our advanced equipment, know-how and service capabilities. Our true pride and joy is in carrying out business that "contributes to our customers' success".

Our mission is defined as:
Contributing to the development of our worldwide customers as a total supplier of innovative devices, expertise and services, using our proprietary ion beam and plasma technologies
We will continue to pursue the ideal solutions for all of our customers and work with them as a partner who can be trusted to make those proposals real.
Our basic management policy shall also reflect our responsibility to contribute to social evolution through our customers.

We always strive to improve our present products and technology; we will continue to evolve in tireless pursuit of ever-better technology, equipment, and services. We will, therefore, maintain an environment in which the people of the world who work together in our company can challenge the various possibilities that they possess.
We will also employ the ion beam and plasma technologies that are our expertise as we tackle a variety of new challenges in order to contribute to the success of our customers over a broader range of sectors and larger geographical regions.